If only a girl could scrub away her woes! Well, about a couple of months ago I indulged in a new body scrub. Now looking back I wonder what my thoughts were  that day; perhaps I was looking for a way to melt away the mid week blues off my skin and add some light to my otherwise dull life skin. So I bought the most intense looking scrub Body Shop could offer and as the name suggests, man it is gritty but surprisingly pleasant at the same time. It is the Wild Argan Oil Rough Scrub from The Body Shop, here is a review: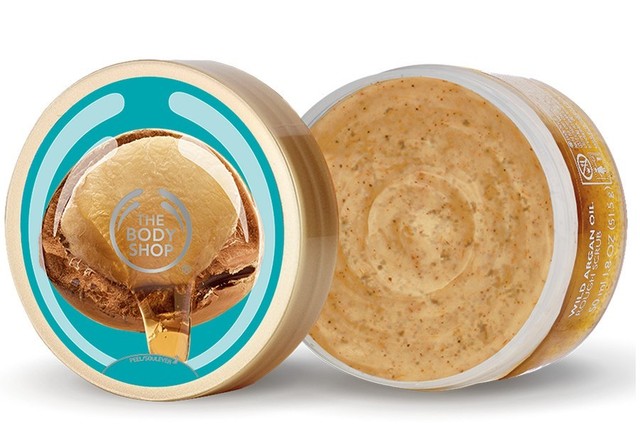 The product: Wild Argan Oil Rough Scrub is a luxuriously smelling body exfoliant that claims to be enriched with organic Community Fair Trade argan oil from Morocco and argan shell exfoliants. What drew me to it was the fact that the argan nuts are hand picked and cracked by Berber women in south-west Morocco, which gives them a chance to earn their own livelihood and in most cases support their entire family with this income. But apart from that this body exfoliant is unlike any I have ever used before, it is a rough scrub no doubt but it leaves the skin feeling über soft and cared for. Plus argon oil is supposed to be rich in Vitamin E and anti-oxidants, a reason good enough to draw me in
The fragrance: Wild Argan Oil Rough Scrub smells sweet and nutty in a good way. It tends to linger on the skin for a good couple of hours and my bathroom smells of it for 3-4 hours. I like the fragrance; my husband says I smell like I have just come back from the city of Marrakesh, which I take as a compliment for I associate the place with dates, figs, walnuts, apricots and luxurious spas!
The experience: The grains are intense. They help buff out the older layer of epidermis polishing the skin to reveal a softer layer that feels clean yet moisturised. And because this is a rough scrub the advantage is that the particles don't melt or wash away in the shower; one gets ample time to scrub the skin without using too much of the product.
Wild Argan Oil Rough Scrub washes off clean, without feeling sticky or oily what so ever. Unlike some other exfoliates I have used in the past, my skin does not feel dry or scratchy after using it. I suppose the argan oil in the scrub takes care of the problem.
How to use: I use it once a week in the shower. Taking sufficient quantity I try to do one body part at a time. I skip using soap that day and finish off with a body moisturiser.
The price and availability: It retails for $65 for 200 ml. Can be purchased online from the Body Shop website.
My verdict: I love this scrub, it is one of best I have ever used. Since I am not a fan of the ones that are too gentle or those that melt away too easily, this is my preferred scrub over the others I own. But on a serious note, you have to use it to believe it for the skin feels extremely soft and plush after using it. I understand with so many options available at The Body Shop, it can be a little difficult to choose the best one, but take your time, do some online research (or read my blog) before you buy the product! But if you get your hands on the Wild Argan Oil Rough Scrub, I would say go for it. It is a good one. I have extremely dry skin at the moment, this scrub still works beautifully.