I always used to be that girl who owned only 1 blush and was happy that way. My oldest memories go back to that single Clinique blush that I owned and loved so much (and it was a very big deal back then). But lately, I have been getting serious about this whole blush game as I realize a girl can not have just one blush; every blush has a different purpose that it serves!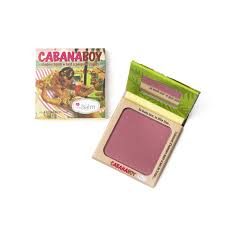 Having said that, it is no surprise that I had to order a blush from overseas just to confirm my beliefs. A blush with international standards, I had to try!! It is the well know Cabanaboy blush from theBalm. Now since I love a particular highlighter from the same company, I was hoping that the blush be as good as its cousin.
I would say, I was not wrong. The blush is pretty good. Here is my detailed review:
The product: Claims to be both shadow and blush. I have used it as both, I must admit it does a good job as a shadow as well, specially when used as a transition color.
The formula: It is very pigmented, so much so that you need to be careful making that first swirl in the pan or you will end up getting too much product (and color). But the best part is that it is buildable, so if you use a light hand at first, you can go on building the intensity as you like. The other good thing about this blush is that it is not chalky, the formula is quite smooth and easily bendable.
The color: Now, this is tricky. I saw a lot of pictures and swatches online before buying it. But in person it is a very cool toned pinkish mauve. Something that I would not have bought in the store if I had seen it (as I have an NC40 skin tone and prefer warmer blush shades). But to my surprise it does not look bad at all. Hare is a swatch, clicked in natural daylight.
Staying power: It is one of the most long lasting blushes I own. I have a very dry cheek area at the moment but despite that a powder blush does not last on me for more than 30 minutes. This did so much better. It stayed for about 4 hours and gradually faded away to nothingness.
Matte or shimmery: It is not a 100% matte but it does not have glitter either. The formula does have a slight sheen to it which makes it look silky on the skin, making the color look like a natural flush from within (but a cool toned flush). But if you have extremely dry skin, consider applying a moisturizer before hand for this blush may accentuate your dry patches.
Packaging: The packaging is quite cute and retro (like most other products from theBalm). On the outside, the cardboard feels quite solid. The inside has a mirror and a magnetized closure which keeps the box firmly closed. I recently traveled with it and it held up well.
Availability and price: the Balm products are still not available in India, I ordered this blush from feelunique.com for $19 which is expensive for a blush. The shipping was free, so that was saviour.
Overall verdict: I like this blush, the pigmentation is great but the only thing that could have worked better for me is its color cause I generally prefer warm tones. But if you are looking for a cool toned mauve blush with good lasting power, this baby is definitely for you.
My Rating: 8/10