Instagram introduced me to Organistick, a lipstick brand that is endowed with natural goodness. No kidding, the brand holds pride in creating lipsticks that are sans parabens, lead, petrochemicals and a host of other 'harmful' ingredients. Instead, the lipsticks contain shea butter, jojoba oil, beeswax and similar elements that are organic as well as natural.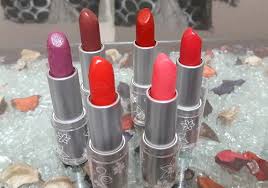 But what really caught my eyes is the gamut of colors they come in, check out their Instagram feed, the lipsticks look so yummy!! Talking of yummy, the lipsticks are also one of a kind being pure vegetarian! Well, I thought all my lipsticks were vegetarian, now I need to really check the ingredients in all my current lipsticks!! Anyways, coming back to Organistick (and to the present), being the intrigued soul that I am, I had to buy at least a couple of these gorgeous lipsticks to try out.
I bought mine from Flipkart.com without any hassles. The best part? The price of these lipsticks. They cost only $8 each!
Let's talk about the formula, packaging and the color range:
Formula- The good: Both the lipsticks that I ordered have a slight sheen to them. They are not absolutely matte nor glossy, but somewhere in between which makes them comfortable to wear.
The lipsticks are super pigmented (in bold!!), so even if you over-draw your lips with these, no one will ever know cause these babies are very opaque. If you have pigmented lips and generally worry that the darkness underneath could ruin the true color of your lipsticks, you need not worry with Organistick (does that rhyme?). Since the color payoff is tremendous, the actual shade of the lipsticks show up very well.
The formula is extremely long lasting. The lipsticks stay put for a good 4 hours (meals included) and then gradually fade away leaving behind a stain. Which means your lips do not get super bare at the end of the day till you decide to take the lipstick off with a wipe or a makeup remover.
The not so good: Just a couple of downsides. One, I was expecting the lipsticks to be very moisturizing because of the ingredients, but they are a little bit drying when applied without a lip balm. I also had to work a bit with these lipsticks. The first swatch felt very drying, but I guess it was the top layer that needed a bit wearing off. But after using them a couple of times, the application has started to feel a lot smoother.
Second, when I opened the packaging, I saw perspiration on the lipsticks which did not delight me at all. I understand it is very hot outside and the lipsticks are made of organic ingredients, but I was not thrilled to see them sweat. Wiping them off with a tissue paper killed the issue, so I went ahead and used them.
Colors: I have to admit I did not choose the best colors. I got carried away by some of the Instagram pics!! I should have chosen the colors more wisely considering that they have a 'find the right lipstick for your skin tone' section on their website. But I must say, I am impressed with the choice of colors they provide. They have the most vibrant reds to the prettiest of pinks to the most ravishing oranges!! If you want to try a new color but afraid to invest a lot of money in other brands, I suggest, you get some of these. The color range is commendable!
The color payoff is lovely as I mentioned above. Here are some lip swatches of the shades 01 and 11 that I have.
Packaging: The packaging is neat. They are delivered in silver card board boxes (individually packed) which keep the lipsticks safe in transit. The actual lipsticks are packaged in traditional bullet cases made of plastic. The lid thankfully is transparent, so you can see the color inside which is useful. The top portion of the lid is magnified, which I guess is designed to show off the color a little better (but I am not sure).
My verdict: I feel the lipsticks are pretty good for the price range and choice of colors. They are long lasting and comfortable on the lips. I am not a huge fan of formula, I feel it could be a bit more moisturizing with all goodness of butters and oils in it; but I know I can make the lipsticks work with a little bit of lip balm.
I must also admit, the whole idea behind these lipsticks with these natural ingredients is a fine concept specially in India where a lot of cosmetics are imported without much consideration given to the ingredients. Having said that, I would definitely like to try more from this brand and see how the other colors fare.
My rating: 8.5/10.