Beautiful lips have always been in news. Be it in the 1930s when Max Factor invented the first 'lip gloss' for the cinema industry to the recent debate about Kylie Jenner's lips. But the question is how far can we go to create those luscious full lips that adorn glossy magazine covers? Are those days behind us when we were advised to focus on our best feature and not worry about the rest?
But since the modern day and age has taught us to 'worry' about everything, lip lining, lip coloring, lip plumping have come home to live with us! Many great inventions have thus been made revolving around the 'perfect pout' from lip stains to lip tars to lip oils.
I have not boarded the lip 'tar n oil' train yet, but have recently been reconsidering the role of lip gloss in my life. I have been a lip gloss atheist for as long as I can remember because glosses in my books have always felt goopy and sticky, aaarggh! (yeah that's the feeling!!) But as I said, I have been looking at lip glosses very differently now. What has changed?
Well, I think the lip gloss gods have been hearing me out for the companies have changed the formula (or brought out new ones) for the hate-that-sticky-gloss consumer. Maybelline has been one of those game changers who introduced the LipPolish by Color Sensational in 2013 and just as easily changed everything in the lip world!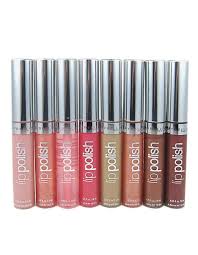 Here is my take on Maybelline LipPolish:
Formula: Maybelline's LipPolish is a hybrid between a lip gloss and a lip balm I would say; lip gloss because it provides a high shine finish like a true gloss and lip balm because it feels very moisturising on the lips. The first swatch however, for most of the colours is a little sheer but the colour intensity is buildable. The gloss feels a tad bit tingly when applied, which I suppose is because of the lip plumping action, common for most lip products these days. The best part about these polishes is that they are not sticky at all which makes this product a winner in my eyes!
Packaging: The packaging is cute as well as convenient. It comes in a see through plastic container that is easy to throw in a purse (no worries about breaking the tube). The applicator is a leaf shaped wand (not doe foot) which is very convenient to use. The only con is that the shades are not super distinguishable in the plastic container for similar looking colors like Glam 16 and 13 here; color labeling is at the bottom of the tubes.
Lasting power: These polishes stay put for about 2 hours (no food/drinks) but they do leave behind a tint after they fade. If the LipPolish you choose has shimmer, then know that the shimmer will stay behind too (even after the tint fades).
Variety: The collection has more than 15 shades to choose from and I believe they have introduced some more recently. But unfortunately, most of the shades are always sold out in the stores and therefore I have not seen the entire collection ever. But the shade that I love the most is Glam 16, a perfect berry toned color with lots of finely milled golden shimmer. It looks beautiful on Indian skin tones. Glam 13 is also pretty, it is a peachy-pink color with a little bit of shimmer.
Price: It is priced at $5, which I feel is a good price point given the versatile product it is.
My Rating: 8/10
My Verdict: I highly recommend this product as it gives a fabulous high gloss finish without being sticky. The color variety is great and a good price point certainly helps! So go ahead, try it out and flaunt that pretty pout ladies!!