Duchess Kate Middleton is an ultimate style icon for many, I love her style too and specially the way she carries herself. But whenever I look at her photographs (being the makeup fanatic that I am), my eyes first go to her makeup. Even though I may not agree a 100% that her makeup looks as perfect and put-together as her outfits (pardon the blasphemy), but those rosy cheeks look adorable on her!! I have always wanted to carry off such a flush myself but the tricky part was to find a blush that would deliver a natural looking result and yet suit my Indian skin tone. I found my match in Benefit's revolutionary product 'Benetint' and since having posted a list of my Favorited blushes here on my blog a few days ago, I have received a number of requests to write a post on Benetint.
So, here is a detailed review and a 'how to' on using Benetint for a Duchess like flush!
The product: Benetint was originally created in the 1970s (known as Rose Tint back then) for an exotic dancer who wanted something to enhance her bosom with (interesting isn't it?). But it soon became a cult favourite and one of Benefit's best sellers today. Benetint is best described as a rose scented cheek and lip stain that has a water like consistency. The liquid is a translucent red (unlike the dark burgundy as seen in the bottle) that lets your skin show from underneath. The primary reason why it is such a favourite is because it is so sheer that it delivers the most natural looking flush ever. It is quite scented, smells of roses.
Packaging: Benetint is packaged in a transparent bottle with a brush that is attached to a screw-in cap just like one on a nail paint bottle. The brush is of good quality that makes the application very easy. If you are unsure of buying a full sized bottle, try buying one of those pre-packaged beauty kits from Benefit. I have posted a detailed review on one of their Primping with the Stars kit, that has a deluxe mini of Benetint, one that you can try for starters.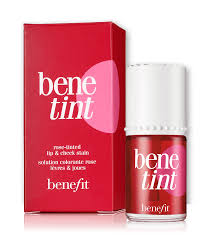 How to apply: The tint is a little tricky to apply at first, but it is very easy to get a hang of with one or two uses. On lips it is fairly simple, use the brush directly on to the lips and dab the product to spread it evenly. Re-apply to achieve the desired intensity, top it off with a gloss if required. I generally don't use it on my lips, for my lips are slightly pigmented and therefore need a lot of product to get the color going.
On the cheeks, make 3-4 strokes as shown, starting from the apples of your cheeks where you want the highest concentration and sweep the applicator brush upwards thereby allowing the color to fade off near the temples. Dab the product with your middle and ring finger in circular motions for a seamless application. Blend in with your fingertips quickly, for the product dries very fast. To achieve the desired color, I apply it twice i.e, apply once, let it dry and then re-apply.
The key here is to not get intimidated by the product. Since it is water thin, it is definitely different from regular cheek stains but is definitely worth the effort. The product does stain the fingers tips after application; be sure to wash your hands before you head out of the door.
Staying power: It lasts for about 5-6 hours on me without budging. It is also non-transferable. For removing it, I generally don't feel the need to use a makeup remover; a good face wash does the job for me.
Price and availability: Full size (12.5ml) of Benetint costs $60. Primping with the Stars kit costs $65, deluxe mini of Benetint (4.0ml) is a part of that kit. The deluxe size will last for a very long time, I have been using mine for over a year now. My recommendation is to try the Primping with the Stars kit cause it has some other products from Benefit that are outstanding.
Both are available at the Sephora.
My verdict: I think this is a gorgeous product, no other blush beats this one for me simply because of its lasting power and natural finish. I feel it is worth every penny cause it suits just about all skin tones. I have extremely sensitive skin, but this does not break me out, which is a huge plus for me. I recommend this to anyone who is looking for a long lasting high quality blush.