I have been drooling over Makeup Geek products for a very long time. The primary reason was the fact that I love Marlena (Makeup Geek CEO and a fabulous YouTube guru). I have been following her for over 7 years now. She is a woman with so much courage and integrity that I admire her immensely. When she launched her own makeup line, my respect for her jumped up a notch (it is not always easy to follow one's dream). Anyways, since the MUG eye shadows and blushes have taken the entire beauty community by a storm, I had to urgently try some of the products!
So, I started doing my research. There are 'n' number of beauty blogs and YouTube videos on MUG eye shadow and blushes but I could not find many that were written keeping the Indian skin tones in mind. I spent hours and hours looking at swatches on various skin colors and finally settled for the ones mentioned below that I thought would flatter my skin tone (NC40).
I ordered one blush called Romance, lets talk about it first and then get into eye shadows: It is a peachy pink with very finely milled golden shimmer. Lots of reviews compare it to Nars' Orgasm and since I don't own that, I had to try this one. It is a pretty blush but does not show up on my skin as much as I would have wanted it to. It is great for topping up on other blushes for a subtle golden glow.
Then I ordered 2 matte eye shadows (from their regular line) called Frappe and Latte. I bought them mainly because I was looking for a couple of matte transition shades. Most eye shadow palettes here have shimmer or are too dark (in brown tones) to be used for transition purposes. These shades (even though they look pretty similar) are perfect! They are highly pigmented and serve the purpose well.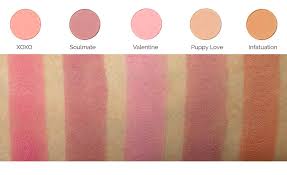 Starry Eyed: This a pretty pink-champagne color, looks more silver on my skin than pink. I would rather use it as a face highlight than as a shadow on my lids. It is my least favorite in terms of how its color looks on my skin.
Jester: A gold-green color that could not have been prettier! It looks amazing on my eyes (I have dark as night black eyes), makes my eyes pop. A perfect green for Indian skin tones.
Magic Act: A true gold with a beautiful sheen. I love golden eye shadows and had to by this. I am not disappointed. It is pretty on its own but is true magic when applied with a little bit of FixPlus!
Center Stage: This one is a perfect royal blue. It is not as pigmented as the rest of the bunch but nevertheless looks amazing. I love to wear blue on my eyes and this shadow is the prettiest I own.
Grandstand: This shadow is gorgeousness in a pan! One of my favorite in the lot, it is the most metallic bronze I have ever seen in my life. It looks amazing on Indian skin tones and therefore I highly recommend this baby!
Apart from the above I ordered an empty medium sized Z palette, which is believed to hold 15 MUG eye shadows or 5 MUG blush pans. I love the palette, it is very sturdy and has a lot of room.
I also ordered one of the most famous beauty tools in the market- the original beautyblender in their super bright pink color. I have used it a couple of times now and I am loving it so far. It is available on the MUG website in 2 colors.
Price points: MUG Blush: $9.99, Eye shadow Pans: $5.99 each, MUG Foiled Eyeshadow Pans: $9.99 each, Z Palette (Black, Medium): $17.00 and beautyblender (Pink): $17.99
Shipping and handling charges: $13.99 outside of the US.
I feel the prices are not very high considering the quality and color payoff of the shadows. These shadows in my opinion have surpassed the MAC ones and MAC eye shadows are very expensive. Shipping is also affordable considering they are shipped from the US.
Packaging: The shadows came neatly packaged, none of the products were damaged or broken in transit which is a plus. Most importantly, I loved the note they attached to my package. I have saved it as a reminder of this excellent personal touch that MakeupGeek has strived for!
A huge shout out to KathleenLights for swatching and reviewing MUG eye shadows and blushes on her YouTube channel. They helped me a lot in selecting the above mentioned products.