While the world is embracing fall, creating gorgeous vampy dark looks for the upcoming autumn season. While the temperature here remains at a sweltering 36 °C (which feels like 46), it is impossible to wear a full face of makeup, specially a full coverage foundation (which ultimately feels like wearing a blanket in this hot humid weather). Now since there is pretty much nothing I can do about the weather, I decided it was time to look for a good coverage BB/CC cream. And I have tried many in the past but never felt fully there until I discovered The Body Shop Tea Tree Flawless BB Cream. Curious? Read on: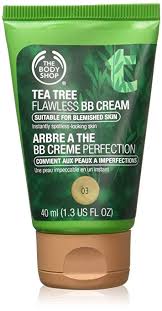 The product: The Body Shop Tea Tree Flawless BB Cream is a light weight formula that not only covers blemishes but helps combating acne in the long run as it is infused with the goodness of tea tree oil . And you already know that I have acne prone skin (read more about it here), caution befriends me each time I try to buy a new face product. But using this BB cream for 3 weeks now, I feel really good about it. It is no ordinary BB cream I must say, it has a great coverage (in comparison to other BB creams available in India). It covers most of my blemish marks and leaves an airbrushed effect (which actually took me by surprise when I used it for the first time and I said to myself "is this for real?")
The color: It comes in 3 shades. 01 for very (very) fair toned people, 02 which is the shade I chose (I am between MAC NC35 and 40 at the moment) and 03 for darker skin tones. Shade 02 is perfect for me even though it is more peach toned than yellow, but it blends away to match my neck perfectly.
The feel: It is does not feel tacky to touch after blending, but my oils do peek out in about 15 minutes of using it. If I am going to some place fancy (yes, I have started using this baby when I go to fancy places), I always make it a point to set it with a light touch of powder. That way it stays put for hours without greasing up my face (I have very oily skin in the summer). The staying power is good too, it lasts for at least 5-6 hours before fading away gradually. Another point to note is that it has a very strong smell of tea tree oil (which does not linger for too long after the application), but it is quite strong when you start applying the cream.
How to use it: People recommend using your fingers while applying a BB cream, but I feel this one applies beautifully with a flat top kabuki brush. The BB cream is thick and provides a wonderful coverage, therefore it deserves to be blended seamlessly for a perfect finish (just my humble opinion!). I suggest avoiding the eye area, it stings, which I suppose is an effect of the tea tree oil and the feeling lasts for a good 5 minutes before settling down.
The packaging: The only downside I see is the packaging. It is nice and sturdy sitting on my vanity, but for travelling I wish it had a screw cap instead of a flip one. I am secretly afraid of flip caps opening during travel and therefore I like to tape up the cap before tossing it in my makeup bag.
Price and availability: The price is a little steep. It costs $75 for 40 ml, but for the product it is (great coverage and tea tree oil benefits), I don't mind the expenditure. It is available online at The Body Shop website; I bought mine from The Body Shop store.
My verdict: The Body Shop Tea Tree Flawless BB Cream is a wonderful BB cream that I discovered so late. My bad, but all the BB creams that I have tried so far have made me realize the value of this one! Not kidding, the coverage is amazing. Of course it does not replace a concealer, but it definitely takes the place of my foundation on some days, specially when the weather is terrible or if I am in no mood for a full face routine (which happens a lot lately!). I only wish it had SPF and the tube came in a screw cap. But I still love it and totally recommend it! Try it if you have not already, I am sure you will appreciate it too!