I find Korean products very intriguing. And believe it or not I have my reasons for it. 1. The Koreans are believed to have mastered skincare (so you would naturally want to discover something that works wonders); 2. The product packaging is often too pretty to ignore (no doubt about that!) and 3. Since the language on the products (Korean) seems indecipherable to me, it persuades my human mind into trying new products to see how good they are. Well, I wonder if those are my 'guilty' reasons for shopping, but whatever it is, I am purely fascinated by the Korean brand Innisfree.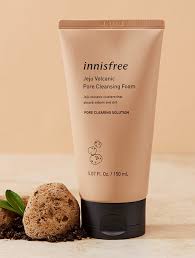 Innisfree is a Korean naturalism-oriented cosmetics brand that came to India in 2013 but sadly, I came to know of it only a couple of months ago when the brand opened a new store. I have been hooked on to it since then and have been making frequent trips to the store for its wonderful skin care masks. Here is a haul and review:
Innisfree it's real squeeze masks: Essentially, these are sheet masks that are soaked in creamy/gel like formula (depending upon the variant you go for) that are believed to have great skin care properties. These are wet (almost dripping wet) but so simple to use! All you need to do is clean your face, take out the mask from the packet and place it on the face carefully. Leave it on for about 10-20 minutes, take it out, pat the face with whatever is remaining and voila! you have a face that looks like a million dollars! Seriously, some of these masks are so good, that I do not feel the need to go to a salon for a facial anymore!
Priced at $8 each, you can not go wrong with these! They are hands down the best set of masks I have used in a very long time. But, you already know that I have acne prone skin and usually afraid to experiment with skin care. But I got brave with these and from the very first mask I started feeling so confident about these beauties, that I used them up all and even bought more!! I have tried a number of variants, so here they are:
Strawberry: Real Source Mask with moisture from squeezed strawberries for skin that's smooth and bright. Honestly, this is my favorite from the range, it gives an instant boost of radiance to the skin along with hydrating it in a single use. It does not break me out or make my skin oilier.
Tea Tree: Real Source Mask to treat skin problems while keeping the skin moisturized, clean. I am not sure if it really cleans out the skin, but it definitely feels moisturizing. But again, tea tree oil is believed to be beneficial for acne prone skin, so if that is the case, this product is welcome!
Lime: Real Source Mask with refreshing moisture squeezed from limes for skin that's bright and clear. This is another brightening mask that feels nourishing as well. But I still prefer the strawberry one over this mainly because I do not like its smell.
Shea Butter: Real Source Mask with incredible moisturizing capacity of shea butter to deliver moisture deep inside the dry, tight skin. I used this one on my husband, he has incredibly dry skin and I must admit it worked wonders! He is very fussy about letting me use products on him but to this one, he reacted surprising well. The shea moisture instantly softened his stubble too, which I am truly happy about! ?
Rose: Real Source Mask with fragrant moisture squeezed from rose that makes the skin smooth and glow. This one smells heavenly! The skin feels firm after using this (in a good way); a feeling that is similar to using rose water on the face. But the gel in here is much thicker than regular rose water, which makes the skin feel refreshed but toned at the same time.
The only thing I am not a huge fan of is the smell of these masks. They smell a little clinical to me (except for the Rose one) but apart from that as I said, I am in love with these masks. They are a tad big in size for my face, but I don't mind that cause I always fold them up from the top to prevent the liquid from getting onto my hair line.
Innisfree Green Tea Pure sleeping mask: Received this one as free with purchase. It is essentially a gel mask that you sleep in. It claims to revive dry, stressed out skin by supplying abundant moisture, but I suppose, you need more than a sample size to test out the results. My first impression of this has been good, the gel is fast absorbing, leaves the skin feeling soft and supple. I am curious to see if it has antioxidant properties, time (and buying a full size) will tell!!
Innisfree Shadow Pencil in 02: This a shimmery champagne colored twist up eye shadow pencil (such a mouthful!). It is extremely pigmented with high-shine pink and gold shimmer. The formula is very smooth, glides on like a dream! The best part however, is that the shimmer does not budge at all after I spread it out on my eyelids. It stays put for a good 5-6 hours on me; looks breathtaking in artificial lighting. Priced at $35, I think it is a fun product to try.