Having spent way too much time (and money) selecting the 'perfect' shade of lipstick, I have realized (a little too late), that I tend to reach out for colors that are closer to my natural lip color. I have pigmented lips, bordering towards brown and I love an occasional pink or an orange, but my everyday go-to colors tend to be on the maroon-brown side. A few weeks ago when I was organizing my makeup drawer, I found that my most used lip colors are very similar to one another in the shade department. The colors that look like my own lips but better are the ones that suit me the most. So keeping that in mind, I picked up a new lipstick a few days ago and have been wearing it non-stop since then. It is the Chambor Powder Matte lipstick in 169 Saddle Brown.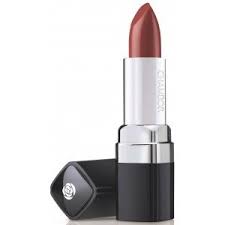 The product: This lipstick is a pure matte as the name suggests but it is extremely comfortable to wear. It claims to have a non-drying triple action formula that provides hydration, sun protection and anti-agining benefits. I hope that is true, but read on to find out what I love about this lipstick.
The color: It is the color I am in love with!! It is a beautiful burnt terracotta color, that leans more towards brown. It is one of the most wearable everyday color I feel; one that will take you away from the neon bandwagon for a short while! Here are a couple of swatches, taken in natural daylight.
The packaging: It is neat like most of the other lip products from Chambor, comes encased in a dark navy plastic container. The shade number along with the shade name is mentioned at the bottom.
The feel: It is a complete matte and as the name suggests, feels almost powdery on the lips but it is extremely comfortable to wear. The first application is sheer (which looks totally natural on me) but it can be built-up for a higher coverage/color. The lipstick is not very long lasting though, lasts for about 2-3 hours on me. The best part however, is that it does not leave my lips feeling dry or chapped, but again, I generally apply a lip balm beforehand (it is a daily practice) and my lips stay comfortable throughout the day.
Price and availability:  I bought mine from the newer stock and it cost me $45 (the old stock is still available in some stores). I feel the price is justified for the color that it is (I am tired of seeing neon lipsticks everywhere and this is a welcome break!!). It is available in most Chambor counters across Lifestyle, Shoppers Stop, New U and the likes.
My verdict: Chambor Powder Matte Lipstick in 169 Saddle Brown is a lovely lipstick. I highly recommend it, specially if you are looking for a warm earthy color that is matte but not uncomfortable on the lips. I love how the color can be easily built up with just a couple of swipes. My only complain is that it does not last too long, but there is nothing that a good nude lip liner cannot fix!